Scratches on dashboard trim come from various sources: dog scratches, keys, shopping, bags, moving, jewellery, etc.
Whether it's vinyl, wood, plastic, metal, leather or stretched Ultrasuede on the dashboard of your or your client's car, the risk of damage is a genuine threat. So what can be done to remove or hide a mark or scratch on a car dashboard component?
Well, it all depends on the type of dashboard you have, the kind of damage caused, and the importance you attach to the aesthetic appearance of your vehicle's interior.
Content::
1. Why remove dashboard scratches
2. Best tools and materials for removing scratches from plastic or vinyl
1. Why remove dashboard scratches
 It is essential to understand that leaving these marks as they are, depending on the material, will only further degrade your vehicle in the long run. Therefore it is essential to combat these superficial but quite unpleasant cosmetic problems.
Leaving scattered scratches on a car's dashboard is like leaving a high-end cutting board unoiled and unresurfaced. It probably won't ruin the integrity of the surface, but it won't look good, and over time it can get worse. Nicks in a car's dashboard is known to discolour and form cracks if left untreated, turning a fixable problem into an expensive headache.
On the subject of cost, do you know what happens to a car's resale value if there are one or two significant scratches on the dashboard (the area that is always in front of us)? Regardless of the area affected, scratches on the car's dashboard depreciate the value of your vehicle.
Regardless of whether a misplaced handbag formed the scratch, a mark caused by a dog, the fact remains that a scratch on one of these apparent parts is not good. And unlike the exterior of a vehicle, where swirl marks and scratches in the varnish can be easily polished off by an almost novice with elbow grease, removing scratches from a car's dashboard requires a little preparation, knowledge and research.
Is there a way to avoid vinyl dashboard scratches? Absolutely! From interior wax and protection products to the full use of a ceramic coating, this adds a sacrificial layer of protection to the dashboard, making it already a wise option. You can also invest in a dashboard cover.
2. Best tools and materials for removing scratches from plastic or vinyl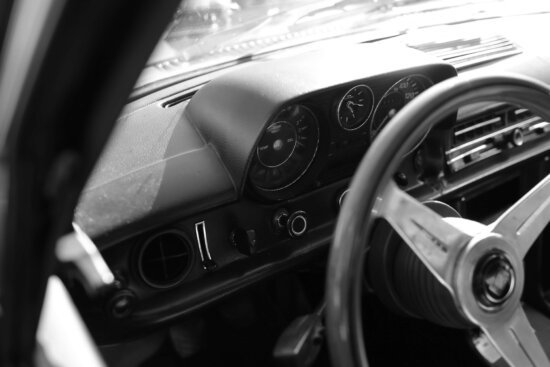 As with any DIY (do-it-yourself) project, you first need the right, appropriate tools before you get to work. While external automotive projects such as paint protection require their own list of necessary materials, the same is valid for dashboard repair.
Forget about using baking soda and the magic eraser. For a minor scratch on a car's black plastic or vinyl dashboard, chances are you can get away with using a product like Meguiars Ultimate Black Plastic Restorer and a microfiber cloth. But for deep scratches on your car's interior, you'll need to forgo the standard approach and get the following items before you go to the block…
Accessories and products for removing scratches from vinyl or plastic dashboards:
Interior car cleaner: While rubbing alcohol (isopropyl alcohol mixed with water) will work in a pinch, using a concentrated, high-quality cleaner will often do better. A spray cleaner is handy as it will help dislodge any dirt or debris embedded in the scratch.
– Heat gun or hair dryer: The heat gun or hair dryer will help make the plastic or vinyl soft enough to reshape.
– Fine-grain sandpaper: to clean up imperfections, then refine the finish.
– Textured Grain Pad: This is a pad with different textures to mimic leather, plastic and other types of grain. Vinyl resurfacing is "leather-like" so that the modified area matches its surroundings. There are tons of finishes and patterns out there, so take the time to look for the one you need (especially since it's sometimes not easy to find depending on the country) and buy one that most closely resembles the damaged plastic or vinyl component of your car.
– Non-linting gloves: burns are not pleasant, and oils from your skin can also compromise the dashboard, so always use thick nitrile gloves to protect yourself and your car's dashboard.
– Colour matched paint: discolouration of the interior plastic sometimes occurs. Painting is the way to solve this problem.
– Microfibre cloth: you're going to need to clean with something, so keep some microfibre cloths (wet or not).
Accessories and products TO AVOID:
– Household cleaners: these products are generally not designed for automotive use and can discolour dashboard materials.
– Torch: While heat may be needed to reshape the dashboard, you don't want to burn it out.
– Coarse sandpaper: coarse sandpaper will only make your dashboard look worse than it is. Instead, use a soft and fine one.
– Aerosol products: unlike the easily controlled brush and sprayer approach, aerosols get it everywhere, so they should be avoided.
Stay posted! We'll tell you more about how to remove scratches from a vinyl dashboard in our next post. In the meantime, don't forget to leave your comments below.