Choosing and buying the right golf cart play a considerable role in improving your golfing experience. However, customizing your golf cart is equally important.
So, here are five ways how you can customize your ride and turn it into a mini-movable, visual feast.
Exterior Golf Cart Customization
Paint Job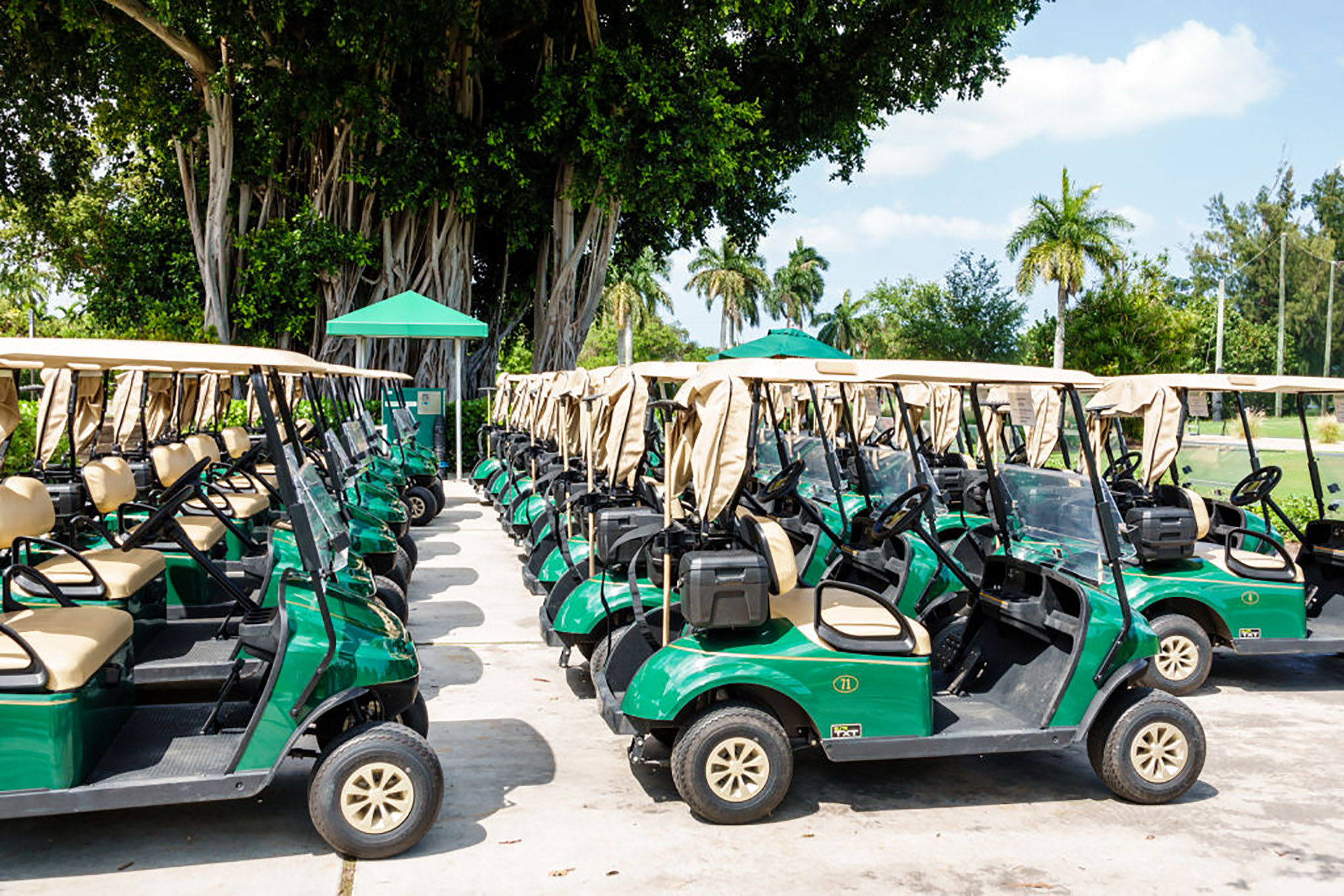 When hitting the course, some golfers can stand out due to their really cool golf cart paint jobs. If you take a look at yours and find a boring golf cart, it's a sign that you need to spruce up your golf cart.
When a golf cart has seen some miles and has been standing out in the sun for a while, the color will start to fade and look dull. If you want your tired old ride to look like a brand new golf cart, give it some snazzy new style by painting the body any color that you want.
When you want to give your golf cart a makeover, the sky is the limit. You can choose a custom color or design and add your own unique style. From vinyl wraps to being hand-painted, you can individualize your cart with any design or color that's on par with your personal style and hobbies.
Painting a golf cart is not too difficult, but it is up to you if you want to take it to a professional or do it yourself. If you opt for the DIY option, make sure you paint the cart in a well-ventilated area and avoid skipping the prep work.
Custom Wrap
Customizing your golf cart doesn't have to include paint jobs. Custom golf carts can also be achieved with golf cart wraps, decals and skins. These wraps and decals are low-cost alternatives to painting and provide the means of adding graphics to your ride to fit your style and needs. These vinyl decals come with an almost limitless variety of designs and are usually applied directly to the cart's surface.
Golf cart wraps are durable and can last for at least five years. Changing the aesthetics of your golf cart using vinyl decals can make your old car look brand new and protect it from weather damage and scratches.
High Profile Tires
Tires are one of the most crucial parts of a golf cart. The type and quality of tires have a direct impact on your driving experience and your golf game. Having tires that are not suited for the weather or not compatible with the vehicle can prove to be detrimental.
Many golf cart owners, for example, often remain ignorant of the importance of tires for their carts. As a result, they do not bother to check the quality of the tires.
Compared to low-profile tires, high-profile tires have higher side walls and smaller rim sizes. Consequently, they provide improved traction, work better on dry roads, give better cornering performance and are quieter, thus making them the best choice for golf carts. Furthermore, high-profile tires are also considered safer and can last longer than low-profile tires.
High Impact Windshields
On the market, there are different types of windshields available, ranging in color, design and thickness. However, high-impact windshields will not enhance the look of your golf cart but will also provide added protection against flying debris and high-impact objects like rocks, balls, etc. These types of windshields are typically made from durable materials such as polycarbonate, which are crack resistant, durable and can remain clear for maximum visibility.
Of course, you can find many great options and the best deals for golf cart windshields at Dade Equipment Maintenance Corp.
Window Tinting
Do you want to reduce glare from the sun and find greater comfort for your eyes?
A tinted windshield would be just perfect!
The tints can block harsh sunshine and provide shade, making the inside of the golf cart significantly cooler and more comfortable. The tinted glass can also add a stylish look to your ride. Another reason why many golf cart owners choose to tint their windows is that it enhances their privacy.
So, these are the ways how you can personalize your ride and make a statement. I'd also suggest you visit Dade Equipment Maintenance Corp as they have an impressive selection of golf cart parts and accessories that can help you add style and convenience to your cart!