Contents
    – Hydrogen kit: what is it?
    – Should you get a "hydrogen" kit?
According to its promoters, the hydrogen kit provides 20 to 30% fuel savings on gasoline or diesel engines. This type of kit can be "grafted" onto a traditional engine, but its effectiveness has yet to be proven, and there is a substantial risk that it will affect your vehicle's warranty.
What is a hydrogen kit?
Definition
The "hydrogen" kit, as it is proposed on the market, has a misleading name. In fact, the name hydrogen kit can only define a type of electric vehicle.
Hydrogen is still experimental in cars, so you would install "real" hydrogen on an electric vehicle to supply it with the necessary electrical energy via a fuel cell-powered by hydrogen.
For our part, we will use the term "hydrogen" kit with quotation marks, for simplicity's sake, knowing that they are adaptable fuel-saving kits, only grafted on internal combustion engines (gasoline and diesel).
How it works
Hydrogen is produced from a supply of demineralized water. The water (H²O) with added potassium salts (KOH) is passed through an electrolysis current which dissociates the existing molecules to form hydrogen and oxygen molecules (HHO). This gas is then directed to the engine's air circuit to modify the combustion.
A 1 L feeder stores the electrolyte (water + salts). It is connected to a generator powered by the vehicle battery. The hydrogen is sent through a pipe to the engine air supply hose after the flow meter.
Purchase and cost
For a passenger vehicle, depending on its displacement, the kit costs between $150 and $250; the installation is easy for an enlightened amateur. If installed by a professional, it costs $400 on average.
The best-known companies market a "hydrogen" kit and HHO Plus, specializing in this type of kit.
Is it necessary to equip yourself with a "hydrogen" kit?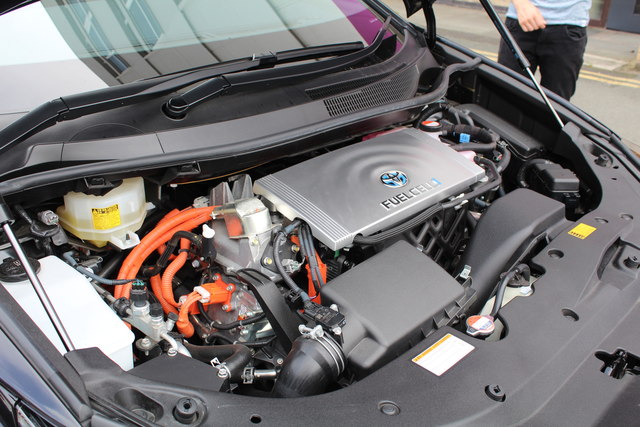 The Pros: 
Efficiency
The promoters of this system announce a fuel economy. Although it is impossible to have reliable efficiency measurement results, it is plausible that hydrogen provides better combustion and, therefore, additional heat energy and improved efficiency.
The Cons: 
The generator's electrical consumption of about 25 A contributes to a loss of power of 0.5 hp, additional fuel consumption, and continuous production of the alternator, which affects its longevity.
This is an often highlighted but false argument. When used as a fuel, hydrogen increases the combustion temperature, which increases the production of nitrogen oxides, which can cause respiratory problems.
In the same way, it does not reduce the rate of CO² since it is superimposed on the existing fuel, which is the producer of this CO².
Regulations and legislation
There is no legislation governing these hydrogen kits. The competent environmental authorities must approve any significant transformation of a vehicle.
Knowing that the administration does not approve of this type of equipment, the modified vehicle is no longer in agreement with the vehicle registration document. This device is therefore outlawed.
To conclude, this kind of installation is interesting to see in action movies like Fast & Furious, but nothing more. What would be good to know, the installation of such a device involves the cancellation of the manufacturer's warranty. So don't even think about it!
If you liked this article, please share it and leave us your comments below.
Read more:
– Why Will You Remove the Catalyst Converter?
– The Solution to Combat Engine Fouling
– Why Perform a Car Diagnostic?
– Increasing the Pressure of a Turbo (Part 1)