Summary
    – Chameleon paint: its characteristics
    – Choosing and using chameleon paint
    – Buying chameleon paint
Among the paints intended for tuning, that is to say, for customizing motor vehicles, chameleon paint (or "pearlescent paint with visual effect") holds a special place. It is intended for the painting of a body, and its originality lies in the variety of colours that it takes according to the angle of view where we place ourselves. Discover with our article the characteristics of chameleon paint, ideal for making your car, motorcycle, or scooter unique. 
Chameleon paint: its characteristics
The secret of the effects of chameleon paint does not lie in the way of painting but its manufacture. It is a process using its reaction to the refraction of light.
It exists in 2 versions:
    – The solvent-based version, the most common. The aerosol version makes it easy to apply by a careful do-it-yourselfer. If you use it with a paint diffuser, it is necessary to dilute it, between 50 and 70%, to say for 1 litre of concentrated paint between 1.5 and 1.7 litres of diluted paint to be applied. The thinner used is specifically designed for this paint.
    – The water-based version, whose chameleon-like colour change effect is identical to that of conventional solvent-based paints. The waterborne paint is a new generation of water-based paint, containing less than 2% solvents, with an immediate drying, which gives a very thin and resistant film.
Note: Chameleon paint is a matte base that is applied on a black or dark undercoat (dark blue, dark green, for example, depending on the final effect you want to obtain) in several thin and fast passes, followed by the application of varnish, for a homogeneous and shiny finish. 
Choice and use of chameleon paint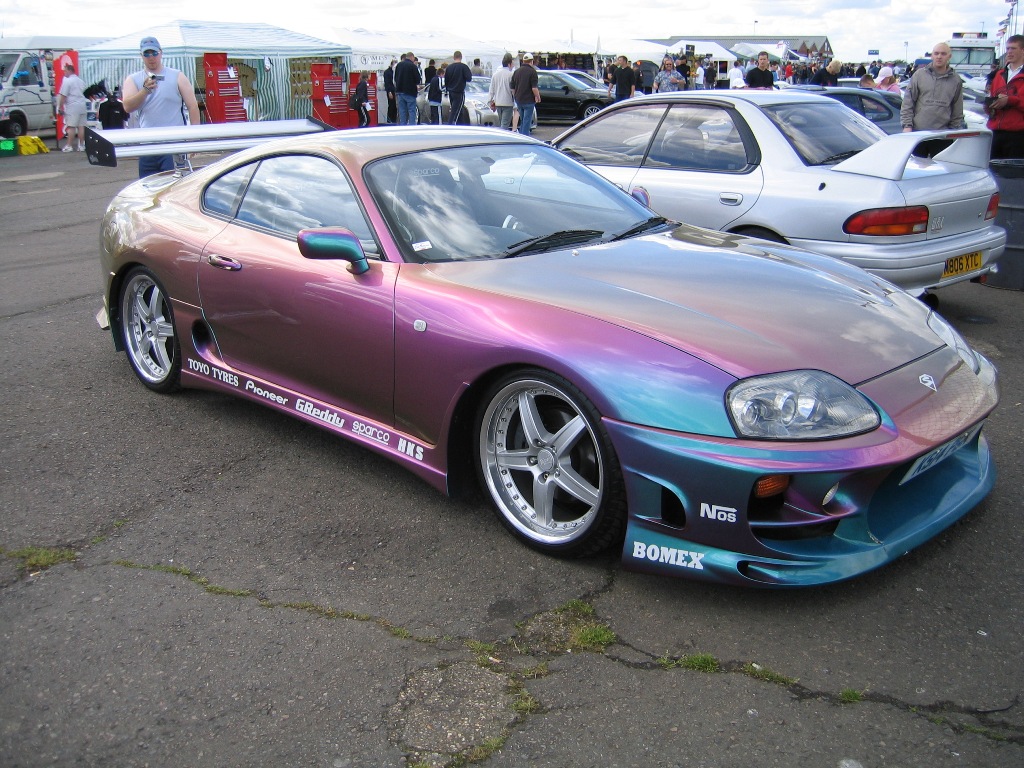 Chameleon paint is available in about 15 colours, including copper, red, purple, and blue, and car manufacturers' colours.
As for any painting, there are some essential steps to follow:
Preparation
Like any surface to be painted, the bodywork must be prepared before painting. In this case, we use a paint stripper.
After sanding, dents and scratches must be removed with polyester resin, fibreglass, and a finishing hardener. And if the bodywork has traces of rust or hail damage, you should use a rust remover on the affected areas.
Tip: Don't neglect this first and most crucial step before applying paint to guarantee the result. Don't forget to protect the chrome parts and those that should not be painted with masking paper adapted to flat or rounded surfaces.
Painting
Set up in a protected area, for example, in a closed garage, to avoid windblown dust. Application is made easier by using spray paint or a spray gun with a pistol grip.
After the first coat of black primer, apply 4 to 5 very thin and successive coats of the chosen paint.
The paint is dry to the touch in about 15 minutes. Then apply a varnish within 30 minutes of drying.
Buying chameleon paint
Chameleon paint can be purchased from car tuning shops and body paint shops.
The price differs depending on whether you buy this product in spray or diluted:
    – A 300ml can for covering about 1 m² is about $50.
    – The water-soluble chameleon paint for the spray gun is $160 per litre, covering about 3.5 m² after dilution with water.
    – The solvent-based chameleon paint kit for spray guns in 2 l (1 litre of paint + 1 litre of thinner) covering about 3.5 m² costs $205.
Read more here:
– How Do You Fix Minor Damaged Car Panels?