Except for its roof, the BMW 2 Series Convertible is almost identical to the 2 Series Coupe. All these models offer open-air driving dynamics. Thanks to its intelligent assistance systems, the BMW 2 Series Convertible also ensures the safety and comfort of the driver.
Features
The BMW 2 Series Convertible is available in 5 trims: Lounge, Luxury, Sport, M Sport and M Performance. It has 5 engines, including 3 gasoline and a diesel:
the 218i with a 136 hp 1.5-liter three-cylinder engine;
the 220i with a 184 hp 2.0-liter four-cylinder engine;
228i with 245 hp 2.0-liter four-cylinder engine;
the M235i with a 326 hp 3.0-litre six-cylinder engine;
the 220d with a 2.0-liter four-cylinder engine with 190 hp.
The BMW 2 Series Convertible's fuel consumption ranges from 4.4 to 8.5 liters per 100 km, depending on the engine. In addition, its auto transmission offers 8 speeds as an option. This vehicle is 4,432 mm long. It also has :
a luggage compartment of 390 l ;
a long engine hood;
an active speed-distance regulator with "Stop and Go" option;
a safety package with city emergency braking and drift warning;
wide track;
Reduced overhang;
a dual front grille;
a recessed cabin;
Long wheelbase;
An Electrically Operated Folding Top
This folds into the body like a "boat deck" in the open configuration. On the other hand, it offers a high level of acoustic comfort in a closed configuration. This is due to the additional insulation. The folding top can also be opened by rolling. It can be opened at speeds of up to 50 km/h.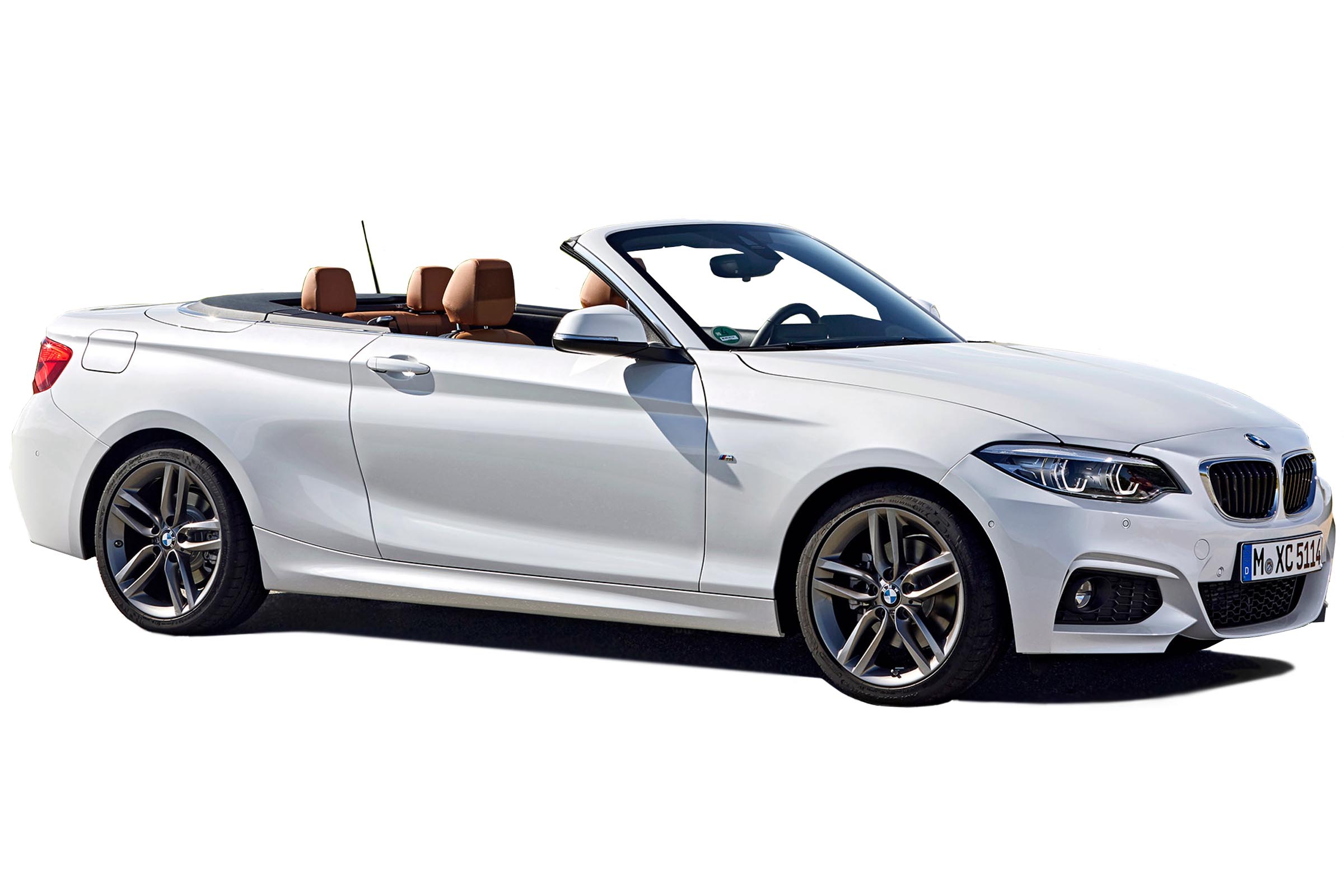 Equipment
The equipment of the BMW 2 Series Convertible varies according to its finish:
BMW 2 Series Cabriolet Lounge
This series is equipped with a front center armrest, automatic air conditioning, a trip computer with a 6.5-inch screen, a 6 HP CD radio, 17-inch alloy wheels, fabric upholstery, a leather sports steering wheel, and headlights.
It is also equipped with automatic windshield wipers, Bluetooth, rear parking radars, velvet floor mats, an electric soft top, adaptive cruise control, and USB port.
The BMW 2 Series Cabriolet Sport
In addition to the equipment found in the Lounge series, you also get bi-xenon headlights, an "emergency call" option, ambient lighting, 18-inch alloy wheels on 228i, vanity mirrors, GPS navigation, and a folding rear seat with ski hatch.
BMW 2 Series Convertible Luxury
In this one you'll also find heated front seats, 3-zone automatic climate control, power-folding mirrors, leather upholstery, a breeze net, and front parking sensors.
BMW 2 Series Cabriolet M Sport
This series features DirectDrive variable-ratio steering, anti-glare rearview mirror, M leather sport steering wheel, M exterior aerodynamic kit, fabric/Alcantara upholstery, and DirectDrive suspension.
BMW 2 Series Convertible M Performance
The M Performance is equipped with SelectDrive suspension, dual exhaust, side air inlets, 7 HP 205 W audio system, 18″ specific alloy wheels, Sport shifter with M logo, and door sills.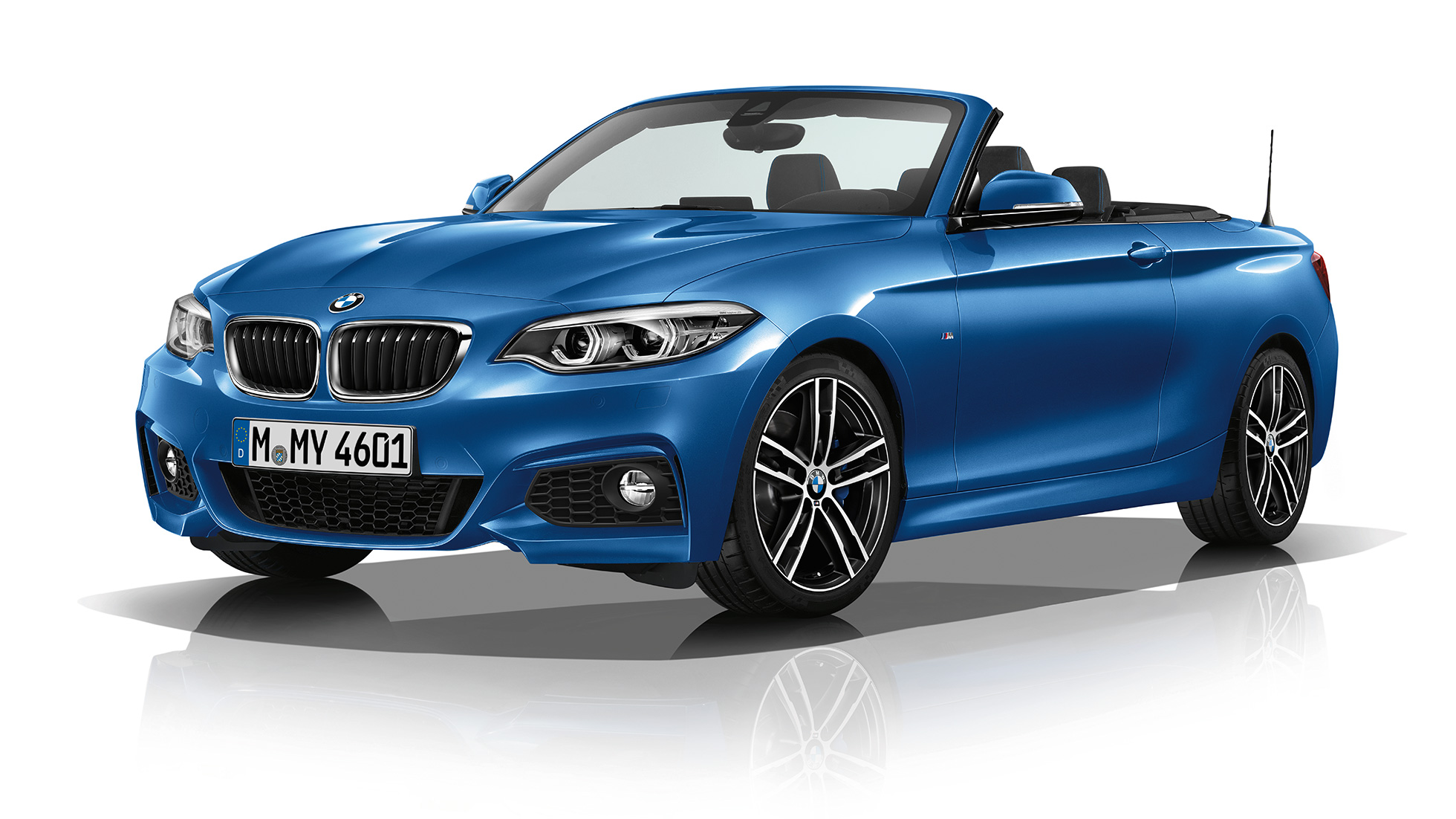 Price
A BMW 2 Series Convertible price varies depending on its finish and integrated engine. For a BMW with the finish:
Lounge, the cost is between 34 350 and 40 550 euros ;
Sport, the price varies between 37 900 and 44 100 euros ;
Luxury, the price varies from 40 400 to 46 600 euros;
M Sport, the cost is between 40,550 and 46,750 euros;
M Performance, the price is 52 900 euros.