Summary
    – Backup camera: what is it?
    – The rearview camera kit
    – Using a rearview camera
    – Price of a rearview camera
A rearview camera makes it easier for a driver to maneuver when he is in reverse. It is offered as an option on many vehicles and sometimes even fitted as standard on the most luxurious. But if your car doesn't have one, because there is no option in the catalogue, you can buy a rearview camera and install it or have it installed by a professional. This post tells you all you need to know…
Backup camera: what is it?
First of all, a small camera installed outside a vehicle, in the center of its rear part, ensures the shooting without blind spots of what is behind it. It is coupled with a liquid crystal display (LCD) or a monitor to see the images.
Suppose it is associated with a reversing radar. In that case, it is also an audiovisual device emitting sound signals, allowing the driver of a vehicle to maneuver in reverse while avoiding obstacles that could present a danger in the maneuver's execution: wall, street furniture, pedestrian, other cars.
Good to know: Several products are available on the market. The simplest is a camera, compatible with the existing screen on your vehicle if the monitor has a video input. The monitor can also be sold separately.
The rearview camera also exists in kit form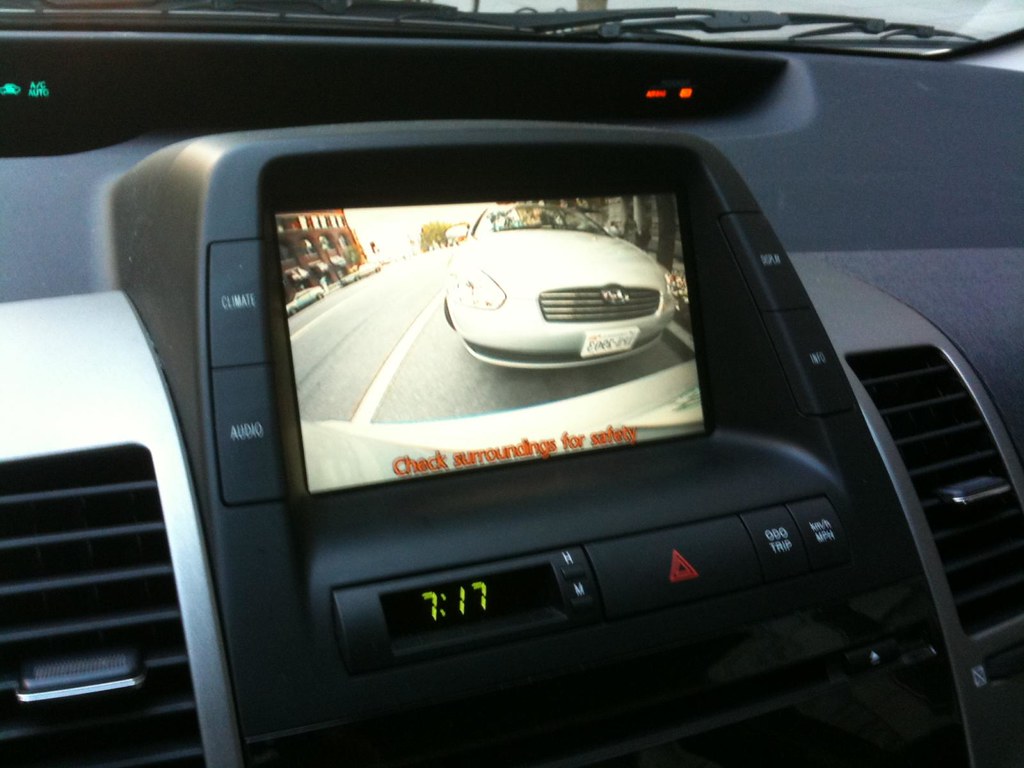 If your car does not have a video screen, you can purchase a kit including:
    – a camera
    – a Hertzian transmitter box
    – an interior rearview mirror.
The image taken by the camera is sent by the transmitter to the rearview mirror, in the mirror of which is a mini LCD screen.
The most sophisticated system sold in kit form consists of a camera, an LCD monitor installed on the dashboard, a connection to the reversing light and the wiring necessary for its installation.
Some kits also offer a reversing radar equipped with sensors and connection cables and a loudspeaker broadcasting the passenger compartment's sound signal. It allows evaluating the distance between the vehicle and the obstacles behind it through intermittent and continuous sound signals. Similar kits are also available that work without wiring.
Tip: If you install a device connected to your vehicle's power supply yourself, remember to disconnect the battery before starting.
Using your backup camera
Once the system is installed, using it is simple. When you put your car in reverse, the backup light's connection turns the camera on immediately, and the image it captures is displayed on the LCD screen.
Please note: Before purchasing, check that the camera or system is suitable for the length of your vehicle.
Price of a rearview camera
The wide variety of products available results in a wide variety of prices:
    – For a camera sold alone, prices start at $12.
    – Monitors alone start at $30.
    – Complete systems with LCD monitors are available from $60.
    – Complete kits without wiring, with a screen integrated into the mirror, start at $91.
Note: The screen size influences the price of these devices, as does their origin, depending on whether they are marketed under the brand of an internationally known equipment manufacturer or an unknown brand. Branded products usually come with a manufacturer's warranty and a more reliable after-sales service.
For info, cameras, monitors and kits are available in-car accessory stores and on vendor websites.
You can read further here:
Remember to share this post and leave your comments below.