Summary
– Paintless dent removal: What is it all about?
– Advantages of paintless dent removal
– Paintless dent removal: at what price?
When a vehicle leaves the dealership, its paintwork is perfect and its bodywork regular. Over time, a few unsightly dents may appear, most often caused by small parking lot bumps. Thanks to paintless dent removal systems, removing these damages at a lower cost without suffering from the vehicle's too-long immobilisation is now possible.
Paintless dent removal: What is it all about?
Provided that the paint has not been damaged during the collision or impact, paintless dent removal allows you to straighten out dents in the bodywork. To do this, the technician will apply small, repeated pressure on the dented area until the imperfections disappear entirely.
The dent remover practices his art with strength and skill. The slightest brutal movement risks chipping the paint and aggravating the problem. He has a whole arsenal of specific tools at his disposal, including the double neon lamp, which allows him to illuminate the deformation and control the dent during his work.
The dent removers use two different techniques to make the imperfections disappear:
– Pushing. Here, the technician uses several diameters to apply pressure from the back of the damaged panel. He repeats the movement by pushing in a spiral, to straighten the dent;
– Pulling. Using a suction cup and a specific glue, the technician will pull the dent outwards so that it disappears. The remaining glue will be cleaned with household alcohol.
Good to know: no one can claim to be a professional paintless dent removal technician without first following a specific three-month training course.
Advantages of paintless dent removal
Calling on a paintless dent removal technician is guaranteed to save you time and money since it takes 15 to 30 minutes for a light intervention and a few hours for a damaged car and a few hours for a damaged car.
The process is risk-free! Indeed, sheet metal and paint have elastic properties. Therefore, with all his know-how, a professional can operate without fear of seeing the paint burst.
Note: Paintless dent removal is an economical and environmentally friendly process since no solvent or paint is needed to refurbish your bodywork.
Paintless dent removal: at what cost?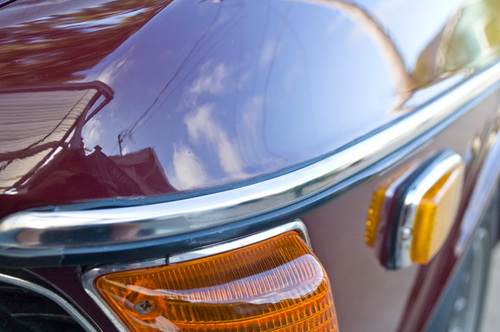 Paintless dent removal can only be performed by an expert, whose rates are usually posted.
Example: For a simple blow on a door, count about forty euros.
If the dents are more significant or numerous on your bodywork, an estimate will then be proposed. It can be up to $300.
Good to know: Paintless dent removal only restores bodies that have suffered small specific impacts that have not scratched the paint. If the paint is cracked, seek professional advice.
For more information, please contact a professional:
– Ask for a quote because the paint quality and additional services have an impact on the price of this type of intervention;
– Whether you want to sell your car or not, a new paint job can be useful. Here are some simple tips on how to repair a scratch on a car's bodywork;
– The bodywork can be repaired properly at home with adapted equipment or by a professional.
Please remember to share this post and leave your comments in the section below. Also, should you wish to read on something more specific, please jot down a few words below and we'll get back to you with as much information as possible. We warmly encourage our readers to share their life experiences and stay posted on our blog.