Summary:

– Automotive upholstery: the components
– The different materials of car upholstery
– Car upholstery: materials maintenance
– Replacing car upholstery: its price
The elements of the interior of a car are composed of various materials that constitute the upholstery of a car. These wear out over time, and you may want to have them refurbished. This post helps you to identify your car upholstery so that you can maintain them and further guides you in your choices if you wish to repair or replace your car interior.
Car upholstery: the components
Definition
Car upholstery is all the materials that cover not only the seats and/or benches, but also the interior panels, the dashboard and steering wheel, and even the carpet when it has to match the rest of the interior decoration.

It also includes:

– convertible car tops, made of alpaca or plastic, as well as the colored vinyl roof covers that could be seen on the sedans and coupés of the 1960s and 1970s are also part of the car upholstery.
– the metal used for seat supports and springs;
– the horsehair or foam used to give the shape of the seats and backrests of seats and benches, as well as to provide padding or upholstery for them.

Good to know: the padding or upholstery of seats has long used animal or vegetable hair. Since the 1950s, synthetic foam has replaced it. Seat frames first used wood, then metal and plastics.
History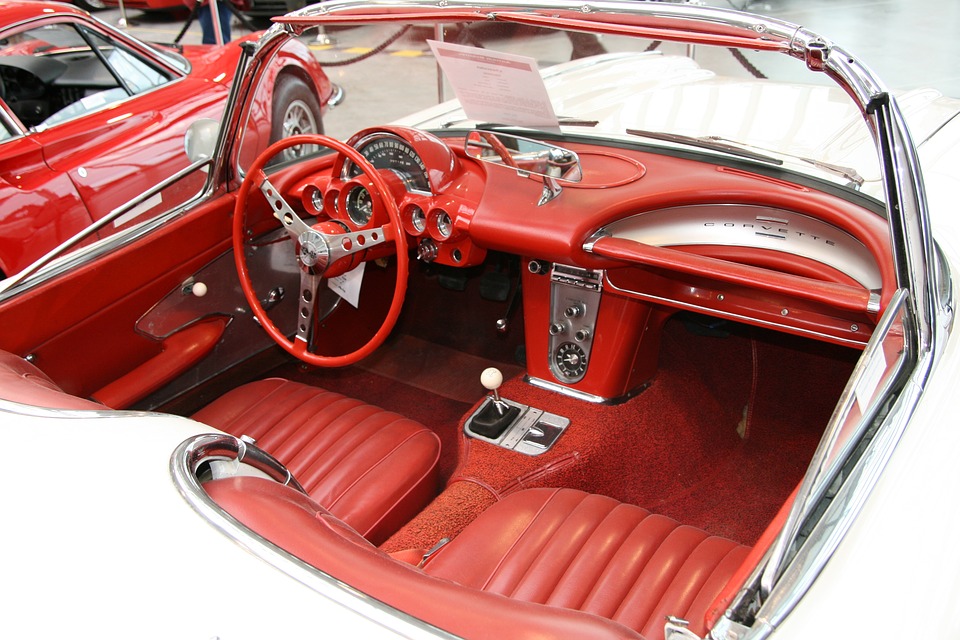 The materials used in car upholstery were first of all leather, which is resistant and waterproof for cars that are mostly open and still very similar to their horse-drawn counterparts.

Fabric made from cotton was to replace leather with the development of closed bodywork until the 1950s, when the first plastic materials arrived and became widespread, replacing either leather or vegetable fabrics.

Imitation leather would also make it possible to create upholstery where real leather was only used on the seat cushions to minimize the production costs of the car industry.

Note: Today's automotive upholstery mainly uses synthetic fabrics that are stain-resistant and waterproof, with leather being used as standard on high-end cars or offered as an option on some more popular cars.
The different materials used in car upholstery
Leather
The main characteristics of leather are waterproof and supple:

Waterproofing allows it to protect the padding and the wooden or metal structures of the seats.
The suppleness of this material ensures comfort, but also resistance over time which allows it to stretch instead of tearing, at least if it is maintained.
Note: leather can be dyed in any color.
Two kinds of leather are used in car upholstery:
Split Leather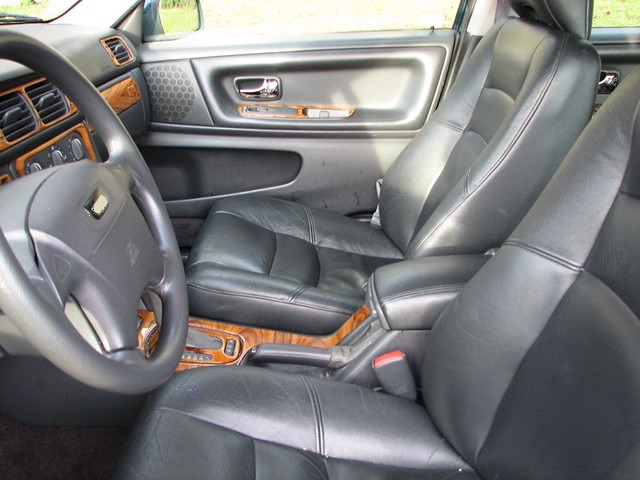 The split leather lacks its smooth part, the grain. Obtained by slitting a hide and having a thick grain, it is not very supple and becomes brittle over time. The split is often used in car upholstery, particularly in Europe.
Full grain leather
This is the smooth part of a hide, much less rigid than the rind. Almost without grain, it is very soft to the touch and more resistant because of its suppleness allowing it to stretch rather than break. It is mainly used by American generalist car manufacturers and European prestige car manufacturers.
Imitation leather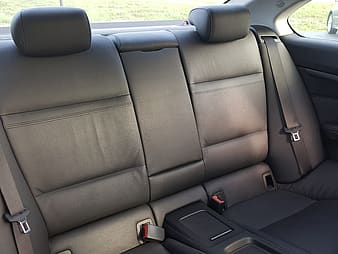 These are synthetic materials from the petrochemical industry that look and feel like leather.

The imitation can also be colored in every conceivable shade.

Its cost price is much lower than that of materials of animal or vegetable origin.
Cotton
Fabrics mainly from cotton weaving were used in car upholstery between the 1910s and 1950s, from which they were replaced by their synthetic counterparts. They are characterized by their strength and flexibility.
Synthetic fabrics
Widely used since the second half of the 1950s, they have replaced cotton fabrics. Today, they are often waterproof and treated against stains, allowing them to be cleaned with water.
The Moleskin
It is a canvas made from tightly woven cotton and covered with a coating and varnish imitating the soft grain of leather.
It takes its name from the English word Mole, meaning mole, the soft touch of the moleskin being reminiscent of the skin of this animal. It was used during the 1920s to 1940s in car upholstery.
Alcantara
Alcantara is a composite fiber composed on average of 68 % polyester and 38 % polyurethane. It is a non-woven fabric, manufactured by aligning very fine polyester fibers in a web, bonded together by the hot application of a polyurethane resin.
It has:
– excellent air permeability;
– a pleasing appearance to the eye;
– a pleasant velvet-like feel.
It is not as resistant and wears out very quickly. It was designed and is manufactured by the Italian firm of the same name.
Good to know: depending on their treatment, car upholstery fabrics are more or less sensitive to stains and dirt. However, they wear out with use and their resistance to heat and burns varies.
Car upholstery: maintenance of materials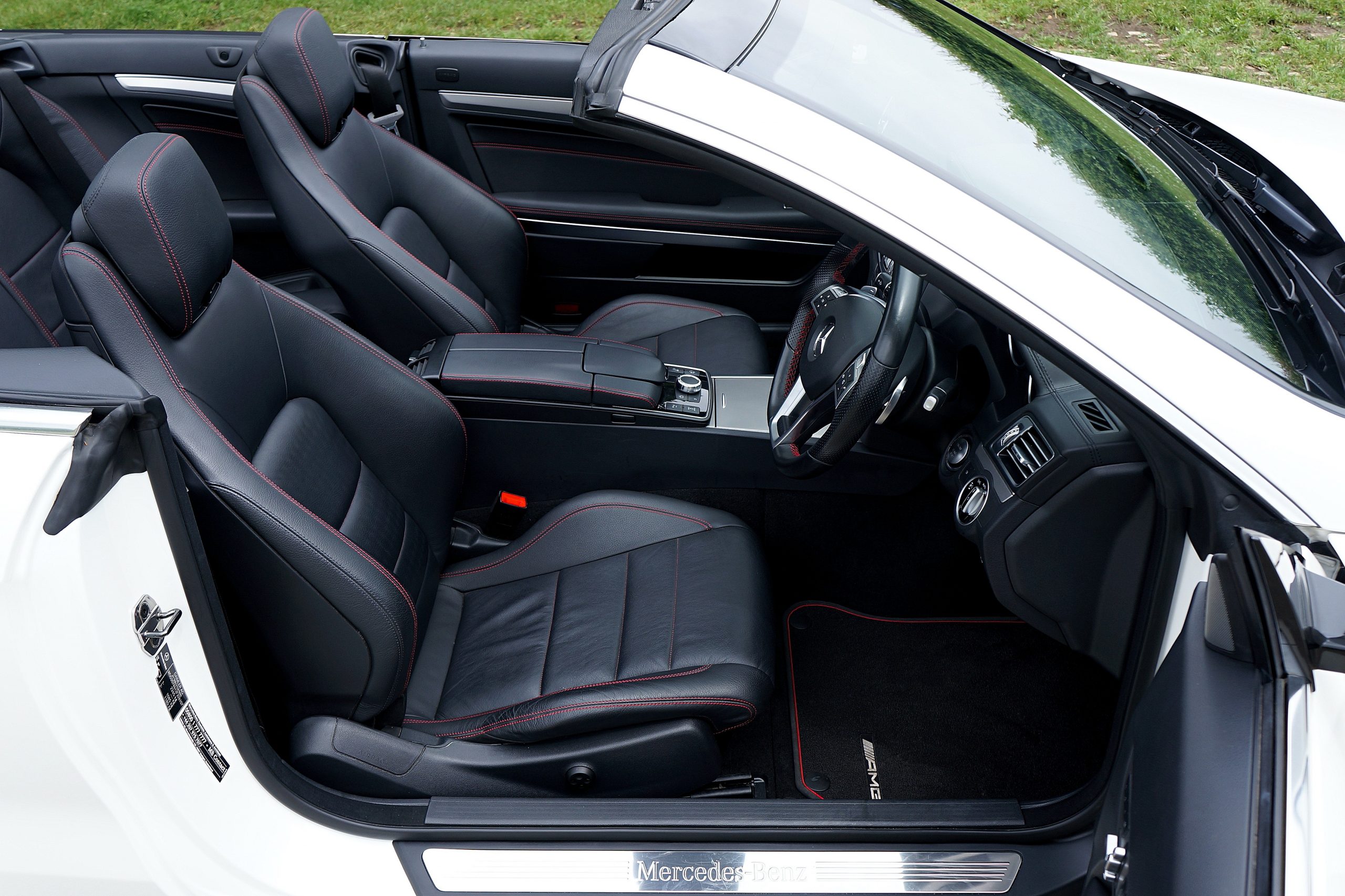 The simplest and most economical way to clean leather is with Marseille soap and water.
There are of course products sold as specially designed for leather cleaning, but they are mostly marketing products and no more effective than soap.
Nowadays, it is no longer necessary to use seal fat to feed the leather. The latter, which is effective but takes a long time to penetrate the leather, is replaced by liquid products and creams that penetrate quickly, allowing the user to sit on the seat an hour after application.
Tip: you can also use cleansing milk mixed with a few drops of white vinegar. Make-up remover milk is very effective against encrusted dirt and grease or sludge stains because of its ability to dissolve them. A moisturizing milk will restore their suppleness.
Replacing car upholstery: its price
Tariffs
As car saddlery is a so-called "custom" work carried out by specialized workers, it is difficult to give generic prices.
However, you should know that the type of material used for its production has less influence on the cost price than the time spent cutting, making, fitting and assembling it.
On production cars, the various types of upholstery, in particular Alcantara and leather, are offered as options in the manufacturers' catalogs. Their prices therefore vary according to the make and content of the equipment offered.
Good to know: The production of a customized upholstery by a specialized upholstery workshop can be less expensive than a manufacturer's option, especially on a top-of-the-range model.
Clothing workshops
There are many car upholsterers' workshops capable of carrying out any kind of work using fabrics, imitation leather and leather on the various elements of a car's interior furniture.
According to your needs and your budget, they will carry out at your request a refurbishment according to the original upholstery or a personalized work on the materials and colors you want.
Please note: Rivero Auto Interior has a team of skilled technicians that can adjust convertible tops and their linings. Some workshops do the take-off and re-installation of vinyl exterior roof covers for vintage cars.